Sorry, this event's been and gone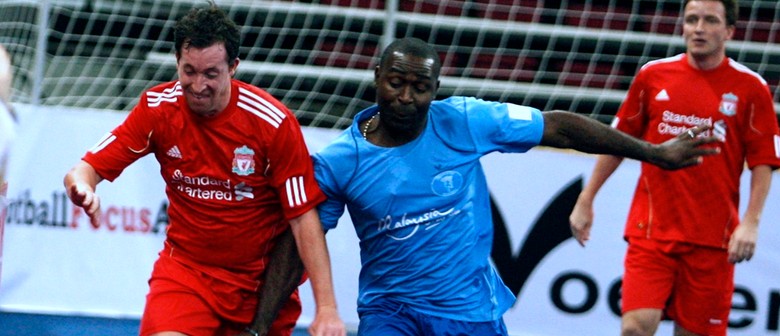 Masters Football Asia is an intense action packed 6 a-side, 3 hour indoor tournament, where 4 teams of legendary stars from the EPL and Singapore battle it out for the EPL Masters Football Singapore Cup.
Watch legendary names including Liverpool FC's Robbie Fowler, Steve McManaman, Patrik Berger and Stephane Henchoz rekindle old rivalries against Manchester United's top goal scorer Andy Cole, Ronnie Johnsen and Lee Sharpe. Throw in a deadly mix of EPL All-Star players such as World Cup & Euro winner, Frank Leboeuf and Dutch giant Pierre Van Hooijdonk along with a fired up Singaporean side from the famous squad of -94, then you know there's going to be a few goals.
EPL Masters Football is an established indoor football tournament that has been running in the UK for over a decade. It brings together legendary players from all clubs in all the British leagues to once again play for the clubs that made them stars. In 2008 Football Focus Asia acquired the rights for Masters Football in Asia. Gavin O'Luanaigh (CMO - Football Focus Asia) "We brought Masters Football over to Asia and gave it a new lease of life. We plan to hold an annual tournament in Singapore bringing over some of the biggest names to ever play in the, to play in Asia, so we are looking for all Singapore's football fans to get involved and support the event".
Masters Football Asia has expanded from its inaugural tournament in Malaysia in 2008. The 2012 tour has already seen tournaments in Malaysia, Brunei, Thailand and Indonesia, with the Lion City next on the list. This time round Manchester United is keen to lift the trophy, just missing out in Malaysia to Liverpool in a thrilling final that went down to penalties. Both the Brunei and Indonesian Cup was won by the EPL All-Stars and an upset in Thailand saw the local side win, so there is definitely everything to play for.